Herbert Blakey was pronounced dead on March 30th, 2002 after he was found by police at 1102 E. Atlantic bleeding on the front porch. Police were dispatched for a life-threatening assault in progress.
Blakey was seen several times on the evening of March 29th coming and going from 1102 E. Atlantic and was in the company of several individuals. Blakey was assaulted by an unknown person in the early hours of the 30th.
Early Reporting From the Springfield News-Leader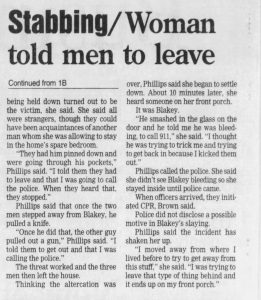 According to this March 31st article in the Springfield News-Leader, police were confident in the early days of this case that Blakey had been assaulted by two men who were seen with Blakey minutes before he was stabbed. The men, one white and one black, reportedly argued with Blakey over money in the early hours of the morning
The tenant of the home where Blakey's fatal stabbing occurred witnessed an altercation between Blakey and the two men and told them to leave before the police were called.
Additional Resources