Last seen on July 10th, 1997, just days before her birthday, Gloria Jean Barnes disappeared from Joiner, Arkansas. On the 11th, Gloria called her brother at roughly 1:45am, telling him that someone was trying to get her. This was not unusual, according to family members, Gloria had been paranoid in the past about being follow.
This phone call was placed on a pay phone located in the parking lot of a convenience store in Joiner, Arkansas. That same night, this convenience store was burglarized.
Believed to have hitched a ride with a truck driver, Gloria made her way to Springfield, Missouri. On July 13th, 1997, her body was found in a parking lot behind the Seven Gables truck stop located at 4525 W. Chestnut Expressway. Gloria was wrapped in blankets and was wearing a white "Spring Break" t-shirt and black shorts.
The Seven Gables is located one half mile off of Interstate 44 on the west side of Springfield and is heavily trafficked.
From the Springfield News-Leader, September 27th 1997:
Police seek information in woman's death

Crime Stoppers wants information about the killing of Gloria Jean Barnes, the Memphis woman whose body was found in Springfield in mid-July.
Anyone with information leading to the arrest and filing of charges against whoever is responsible for her death will receive $1,000.
Barnes. 36, was last seen alive July 11 in Joiner, Ark., about 40 miles north of Memphis.
Shortly after her body was found, Springfield police received a tip that Barnes may have gotten into a new gray Peterbilt tractor-trailer rig in Joiner.
The truck was described as having a picture of Elvis on it. The truck may have also had "Graceland" written on it.
The words "Memphis Consolidation" or "Trailer Transit" may have been painted on the door.
Barnes was 5 feet 2 inches tall, weighed about 175 pounds and had brown hair and eyes. She was found wearing a white T-shirt with "Spring Break" on the front and "Destin, Florida" on the back. She had on black shorts.
If you have information about the case, call Crime Stoppers at 869-TIPS
Recent Updates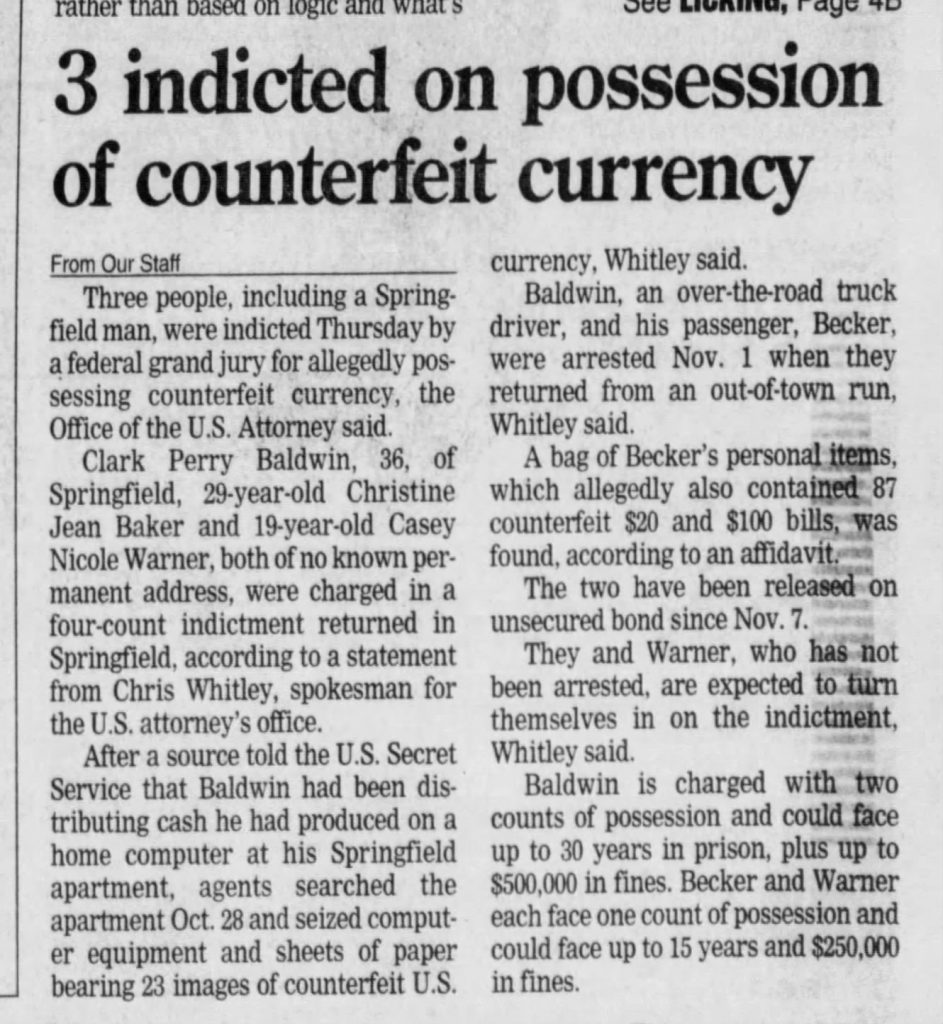 Gloria's family is still waiting for answers and justice in this case.
Earlier in 2020, DNA lead to the arrest of truck driver Clark Perry Baldwin in Iowa believed to be responsible for deaths in Wyoming and Tennessee.
Baldwin lived in Springfield as an adult, according to online records and worked for many years as an over-the-road truck driver. In 1997, Baldwin's apartment in Springfield, Missouri was raided by Secret Service agents for allegedly making counterfeit U.S. Currency.
From this article in the Springfield News-Leader published on November 14th, 1997, Baldwin was living in Springfield with 29-year-old Christine Baker and 19-year-old Casey Warner, both of no permanent address. Baldwin's apartment was searched on October 28th and U.S. Secret Service Agents seized computer equipment and sheets of paper bearing 23 images of counterfeit U.S. currency.
Baldwin and Becker (name previously reported as "Baker") were arrested returning to Springfield in Baldwin's semi-truck on an out-of-town run.
Additional Resources