Overview from Springfield Police
On January 7, 2001, at approximately 11:00 p.m., officers responded to 3043 W. Lynn to investigate a report of gunshots being fired. Officers arrived on scene a short time later and located James Leon Medler (40 y.o.a.) lying in the front doorway of the residence. Medler died at the scene as the result of a gunshot wound.
The victim's son, Jamie Medler, Jr., reported he was present inside the home when several black male suspects forced entry through the locked front door. Jamie and a female associate said they fled the residence through the back door fearing they would be attacked by the suspects. Jamie and the female associate advised they heard a gunshot from inside the residence as they jumped the fence in the backyard. Jamie returned to the house several minutes later and found his father lying on the floor in a pool of blood.
Detectives canvassed the neighborhood for possible witnesses. Neighbors reported hearing gunshots coming from Medler's house and then observed numerous black males running from the scene. Witnesses described seeing three vehicles flee the scene and they were described as a maroon four door Cadillac or Buick, a yellow Ford Mustang with a black top, and a white four door Dodge Neon.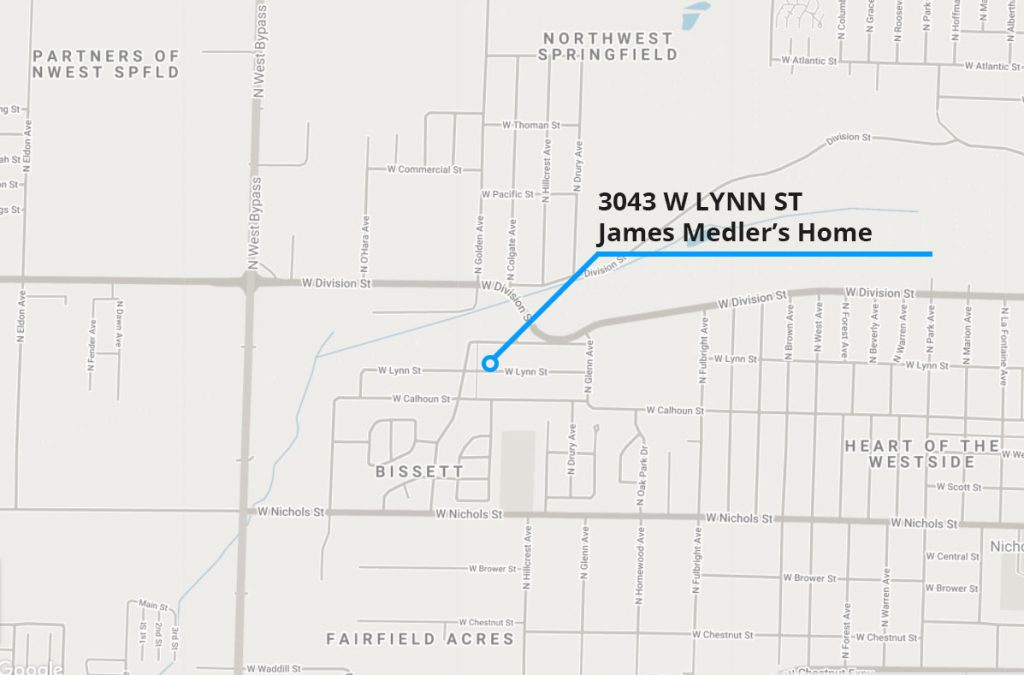 January 9th, 2001
Just days after Medler's death, nine detectives had been assigned to the case. The consensus among police seemed to be that James's death was not random. According to neighbors, James Medler was a quiet man who lived at the home with his dog, Bullet, and walked with a cane. According to relatives, James had been on the phone with a family member on the 7th when he heard someone at the door. He told this relative that he would call back, but he never did.
January 12th, 2001
By January 12th, Police had no suspects in the fatal shooting of James Medler. Neighbors had seen four or five black men run from the area near the time of the shooting. Additionally, they described three cars of interest, a maroon Cadillac, a white Dodge Neon, and a yellow Ford Mustang.
January 19th, 2001
Police state in an article in The Springfield News-Leader that James Medler's death could be connected to a string of home invasions in Springfield.
January 7th, 2003
By the two year anniversary of James Medler's death, police still had not cracked the case. They were still investigating the cars seen in the area and seeking information from the public about them. By this time the description of one car had changed from a yellow mustang to a "sporty" yellow car, maybe a Mitsubishi Eclipse.
James Medler's father, Virgil Medler, passed only a couple weeks later on January 21st, 2003.
Additional Resources