On November 28, 1976, skeletal remains were located in a shallow grave near McDaniel Lake. The remains were identified by an orthopedic plate on the left thigh bone as belonging to a 17-year-old female, Tina Sue Spencer. Tina had originally been reported missing with the Nevada Police Department on January 6, 1976, by her mother.
The last known confirmed contact with Tina was in Springfield around 10:00 p.m. on March 14, 1976, when a local taxi driver reportedly picked Tina up from the Springfield Airport. The taxi driver advised Tina had said she had been waiting for her friend to pick her up and he never came. According to the taxi driver, since Tina had nowhere to go, he took her to a house in the area of 400 N. Main. The residents there stated that Tina left on foot to go to a payphone to make a phone call to the person that was supposed to pick her up and they never saw her again.
Tina Sue Spencer: White female, DOB 11/23/58, 5'3", 110lbs, green eyes, and brown hair.
Springfield Police Department Detectives conducted numerous interviews, but no charges were filed. The case remains unsolved.
From the Springfield News-Leader, November 30ths 1976: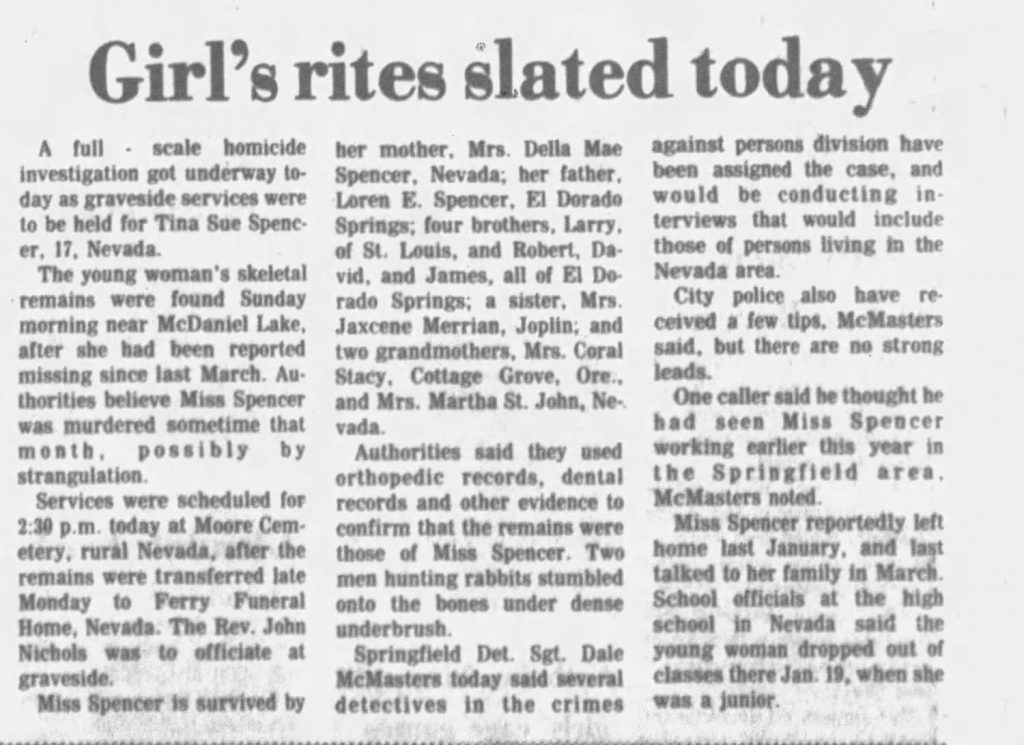 Girl's rites slated for today
A full-scale homicide investigation got underway today as graveside services were to be held for Tina Sue Spencer, 17, Nevada.
The young woman's skeletal remains were found Sunday morning new McDaniel Lake, after she had been reported missing since last March. Authorities believe Miss Spencer was murdered sometime that month, possibly by strangulation.
Services were scheduled for 2:30pm today at Moore Cemetery, rural Nevada, after the remains were transferred late Monday to Ferry Funeral Home, Nevada. The Rev. John Nichols was to officiate at graveside. Miss Spencer is survived by her mother, Mrs. Della Mae Spencer, Nevada; her father, Loren E. Spencer, El Dorado Springs; four brothers, Larry of St. Louis, and Robert, David, and James all of El Dorado Springs; a sister, Mrs. Jaxcene Merrian, Joplin; and two grandmothers, Mrs. Coral Stacy, Cottage Grove Ore., and Mrs. Martha St. John, Nevada.
Authorities said they used orthopedic records, dental records and other evidence to confirm that the remains were those of Miss Spencer. Two men hunting rabbits stumbled onto the bones under dense underbrush.
Springfield Det. Sgt. Dale McMasters today said several detectives in the crimes against persons division have been assigned to the case, and would be conducting interviews that would include those of persons living in the Nevada area.
City police also have received a few tips, McMasters said, but there are no strong leads.
One Caller said he thought he had seen Miss Spencer working earlier this year in the Springfield area, McMasters noted.
Miss Spencer reportedly left home last January, and last talked to her family in March. School officials at the high school in Nevada said the young woman dropped out of classes there Jan. 19, when she was a junior.
Additional Resources