67 year-old Clara L. Batton was found by a home health nurse on 02/12/1992. The nurse contacted the Springfield Police Department who responded to 416 W. Nichols at 11:45 a.m. to conduct a death investigation.
Clara lived at 416 W. Nichols with her father William E. Batton. William, who was blind and dead, was lying in his bed unharmed. Clara's vehicle, a light blue 1984 Dodge Omni was missing at the time that the police responded, but it was discovered in the parking lot of Git-N-Go, a local convenience store located at 1510 N. Clay Ave.
Clara had last been seen alive by a neighbor the afternoon of February 11th, 1992.
It is clear that Clara left a large impression in the lives of those around her. After a career teaching first- and second- graders in St. Ann, Clara returned to her hometown of Springfield to care for her father. During her time in Springfield, she developed strong bonds with the community, delivering meals to the homebound elderly five days a week for the Northview Senior Citizen Center. Clara also attended church regularly, "every time the doors were open," said Pastor Rick Hedger of Grant Avenue Baptist Church.
Now an empty lot, 416 W. Nichols St is only a couple homes away from the corner of Nichols and Campbell Ave, two blocks north of W Chestnut Expressway.
On February 13ths, 1992 the following article appeared in the Springfield News-Leader: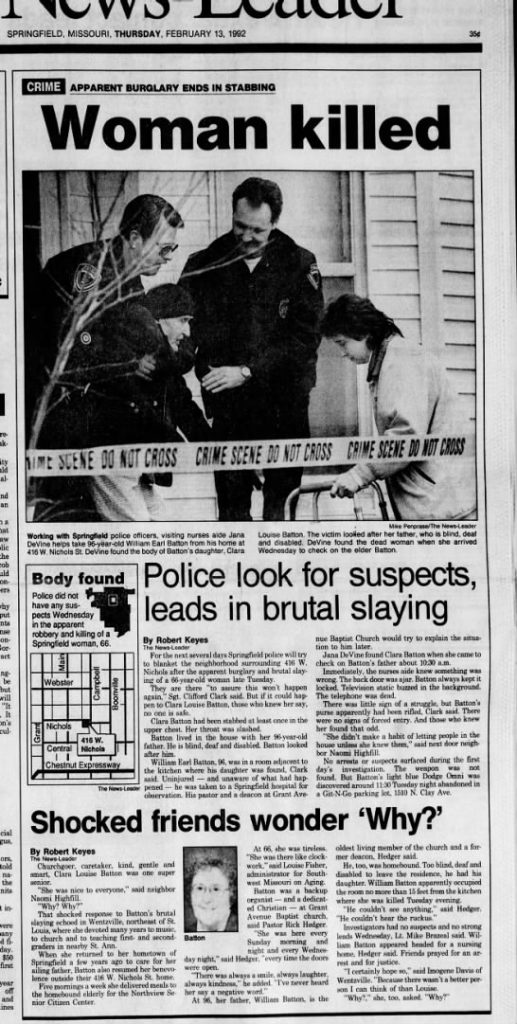 Additional Resources