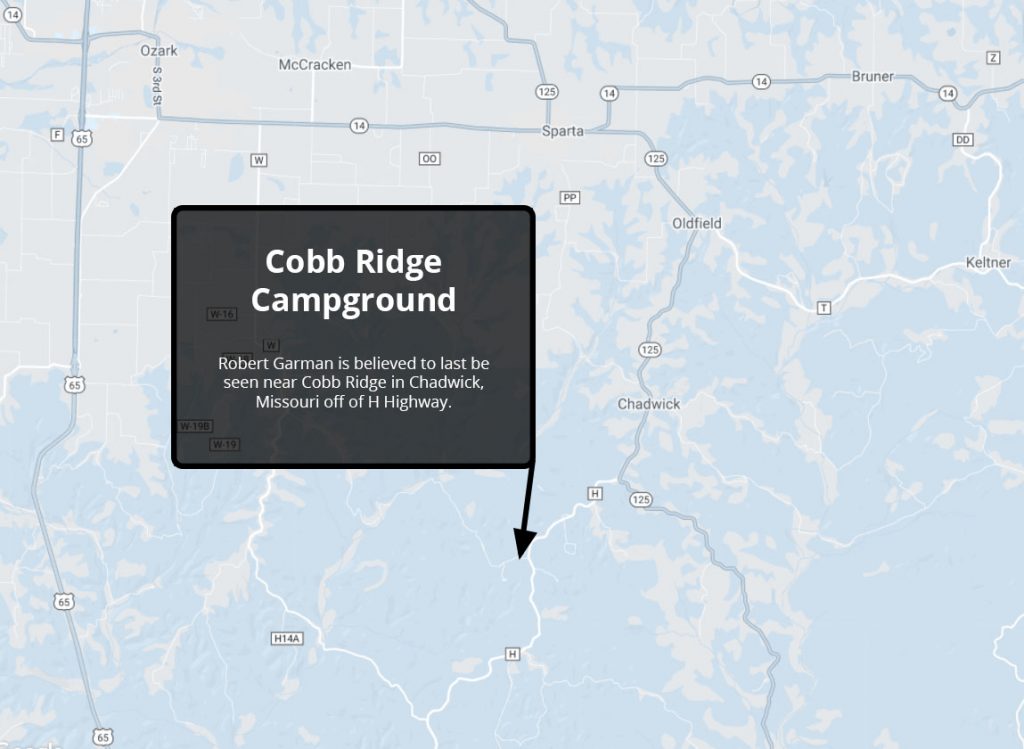 Robert Garman of Hot Springs, Arkansas was last seen on September 9th, 1996 at a party in the Mark Twain National Forest near Chadwick, Missouri.
Witnesses reported seeing Garman argue with a male and female acquaintance. Shortly after the argument, Garman reportedly walked into a wooded campground area and has not been seen since. Anyone with information concerning the disappearance of Robert Garman should contact the Christian County Sheriff's Department. Robert Garman has also used the aliases Bob Garman, Bob Garmann and Strad Dighton.
If you have any information regarding Robert Garman's disappearance, please contact the Christian County Sheriff's Office at (417) 582-5330.
Information About Robert Garman
Robert Garman was born on November 2, 1962. He was 33 years old when he disappeared. He was 5′ 11″ tall and weighed 150lbs with brown hair and blue eyes. Robert had multiple tattoos on his back, chest, shoulder, and arms.
Media Coverage
Tips lead to efforts to find body of man missing since 1996

A search is intensifying for the body of an Arkansas man who disappeared nearly three years ago after partying for several days in the Mark Twain National Forest.

Information from tips and recent unrelated arrests have produced leads and two or three suspects, said Sgt. Terry Owen of the Christian County sheriff's office.

Bob Garmin, 34, of Hot Springs, Ark., was last seen on Sept. 18, 1996. Investigators are searching in an area near the Cobb Bridge, and cadaver dogs will be brought in Monday.

"People involved think we're getting too close," said Owen.

"There have been threats made. We've had some information coming in about him being shot, possibly dismembered and dropped in a sinkhole."

Garman and a female acquaintance from Arkansas were in the Ozarks visiting friends and joined a binge part of about 15 people that lasted several days, Owen said.

"The party ended up out in the forest" Owen said. "A lot of the people were using and on meth."

Garman and the woman left the party alone. Two days later, he was missing and horseback riders in the forest found the woman naked, disoriented and badly bruised, Owen said.

"She was definitely hysterical and obviously coming down from a drug high," Owen said. "She kept talking about Bobby being shot."

The woman told authorities she had been sexually assaulted and that Garman was shot in the face.

The Daily Journal (Flat River, Missouri) – June 27th, 1999
Additional Resources