Shirley Jane Rose was a shy girl. A writer of silly stories. She was afraid of the dark. Shirley was cared for by her mother, her siblings, and her grandparents. An "awfully sweet little girl."
Maybe she was slow to warm to new people, but according to her fourth-grade teacher, everybody liked Shirley and she was a bright spot in their class.
Shirley Jane Rose was born to Charles Harvey Rose and Joyce Ellen Rose on November 21st, 1965 in Omaha, Nebraska. She had two brothers, Charles and Joe, and two sisters, Joyce and Shannon.
October 17th, 1975
On October 17, 1975, 9-year-old Shirley Jane Rose was abducted while walking from her grandparent's home at 865 S. West. Shirley was walking to her home at 1309 S. Scenic between the times of 6:30 p.m. and 7:30 p.m. Witnesses reported seeing Shirley walking on Scenic and reported seeing Shirley talking to a male subject in a blue Chevy car. Shirley never made it home and her mother contacted the Springfield Police Department. An intensive search of the area was conducted by police, family and citizens but Shirley was not found.
Shirley Jane Rose's mother, Joyce Rose, called police at 7:43 p.m. about an hour after he daughter failed to return home following a visit to the home of her grandparents, Mr. and Mrs. Joe Peck, 865 South West Avenue, only five blocks away.
October 19th, 1975
By October 19th, the search for nine-year-old Shirley Jane Rose was called off by Springfield Police. In the days after her disappearance, over a hundred officers and volunteers failed to uncover any clue about her disappearance.
Police were searching for a young or middle-aged white man driving a 1969 or 1970 blue Chevrolet who was seen trying to talk to Shirley just blocks from her home.
After this sighting, Shirley was seen again a few minutes later walking by herself toward her house, with no car following her.
By the end of this extensive search, Investigators believed that Shirley Jane Rose was not lost and that her disappearance was the result of foul play.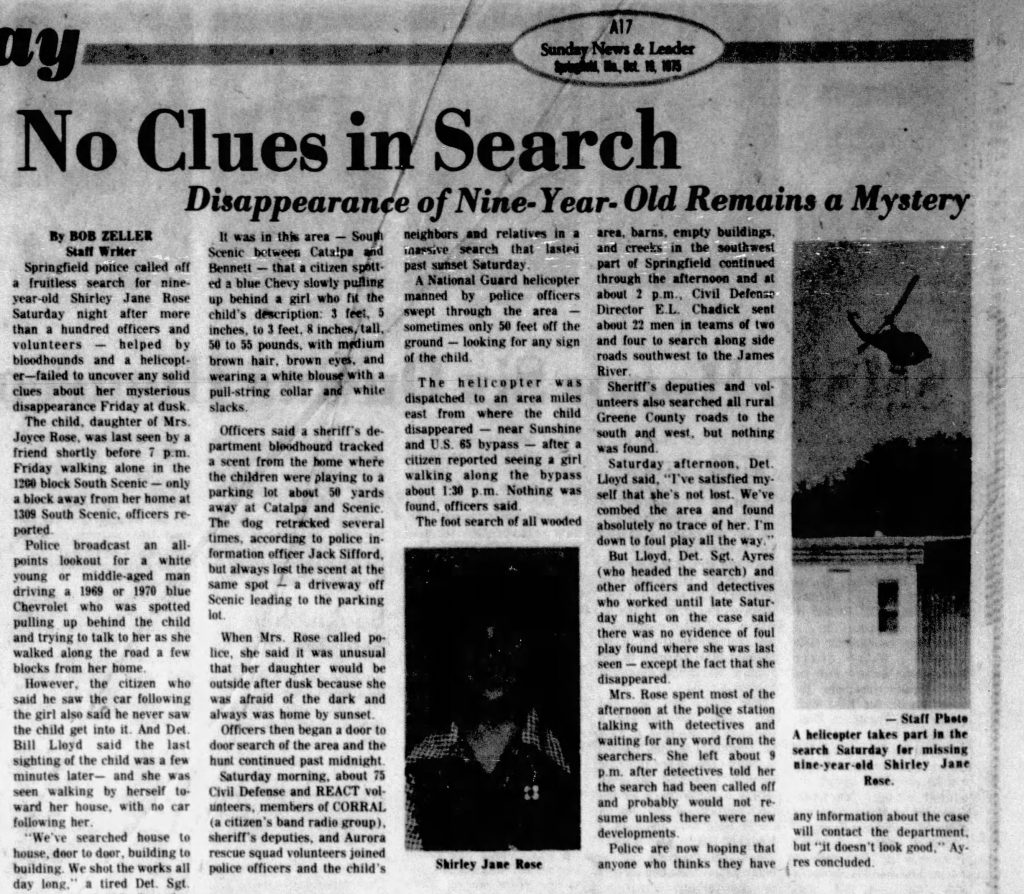 October 20th, 1975
Despite the physical search for Shirley Jane Rose coming to an end, Police continued searching for the blue Chevrolet. Police also questioned Joyce Rose's ex-husband. The couple had divorced in March, but he was out of state on the Friday that Shirley went missing.
One tip that came in involving the blue car came from a father living on West Bennett. The man told officers that a man driving a blue Chevrolet followed his daughter around the Consumers Market at 2525 College. The man was described as 6 feet tall, 250 to 300 pounds, and wearing "raggedy" clothes.
October 22nd, 1975
On October 22nd, a group of women came together to establish a reward fund for information regarding Shirley Jane Rose. Within a week, the fund reached $500.
November 18th, 1975
Nearly a month has passed since Shirley Jane Rose was last seen. Mentions in media are becoming less frequent, but Springfield Police continue following every lead. On November 18th, Police issues an arrest order for a 20-year-old man in connection with the disappearance of Shirley Jane Rose. They describe the latest arrest order as "just another" in the interrogation series.
December 14th, 1975
On December 14th, the body of Shirley Jane Rose was found in a shallow grave a quarter mile below McDaniel Lake. Shirley was found by McDaniel Lake caretaker Roy Shelton and trapper Lawrence Thompson while they searched for beaver dams. Shelton and Thompson were also joined by assistant caretaker David Kiser, 20, of Brookline and Davis Stucker, 19.
When police arrived and uncovered the body, they found her face down in the grave with the arms folded about the body and the legs folded back up and over the back of the body.
Shirley was positively identified using dental records. According to the Greene County Medical Examiner Dr. Erwin Busiek, Shirley was strangled, but he was unable to determine the exact cause of death. It was believed that she had been in the grave for quite some time.
The grave was found a quarter of a mile west of the dam and below the lake on city land along a small gully close to the Little Sac River. It had been dug into the side of the embankment under a tree.
Additional Resources